This coming winter, Chabad of Northwest Arkansas will celebrate its "Bar Mitzvah" – thirteen years of dedicated service to our wonderful Jewish community. For technical reasons, my family couldn't relocate right away and in the beginning we commuted frequently to run programs and services. It was the day after our daughter's first birthday that we moved and since she turned thirteen this Wednesday that means it's been twelve years yesterday since we became legal residents of the Natural State.
Milestones are always a time to reflect; a time to look back at what has been accomplished and look forward to what is going to be accomplished in the days ahead. In the time that passed we've had the scared privilege to be a part of many inspirational moments and life changing events. One of those, I will share with you today.
__
"Rabbi, we have a Jewish patient who is about to pass away any moment now, are you able to come by today to say final prayers with her?"
I received this call a few weeks ago from a hospice worker in Southwest Missouri, about 50 miles away from our home. Usually, I would drop everything and go, but I had a 'minor' problem: my family and I were on a road trip in Canada, 1000 miles away from home. I explained that barring a miracle, it would take three more days for me to get home and that's the soonest I can get there. I was told that she probably wouldn't make it until then, as she's 92 and already hadn't eaten for several days. I was disappointed but didn't know what else to do.
Remarkably, she was still hanging in there by the time we got home and the next day I drove over and met Faye*, a Jewish woman that grew up in NYC and moved to this area decades ago. She was unresponsive and sleeping but her daughter, who was so thankful for our visit, told me all about her and her family and their history in Europe, NYC and in southwest Missouri. I proceeded to recite the Shema and other prayers that are said in one's final moments.
When we were about done, her son, Bernie* arrived. I introduced myself and we were chatting, when I casually asked if he ever had a Bar Mitzvah. "No", he responded, "I know Mom would have really liked it, but we just never got around to doing it". 'Let's do one right here, right now', I offered, and some fifty years after his thirteenth birthday, Bernie put on Tefillin for the first time in his life, recited the Shema, and celebrated his impromptu Bar Mitzvah. "Mom," announced her daughter, "look, Bernie is having his Bar Mitzvah now."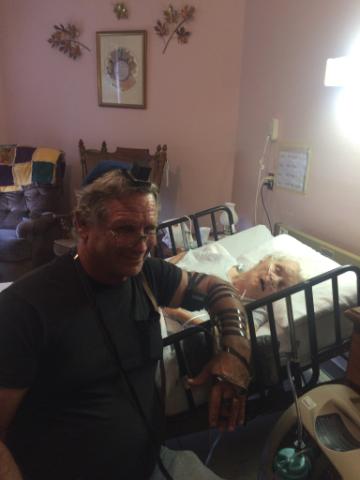 What happened next was truly remarkable. Faye, who had been unresponsive until that point, opened her eyes wide, lifted her head slightly, and took a long, long look at her son. Too weak for further expression, she fell back asleep, but I will never forget that look. A look of a "Yiddisheh Mamme" finally able to celebrate her son's Bar Mitzvah.
She lived for a few more days and I had the chance to visit again and when she passed away my wife and the women of our Chevra Kaddisha had the sacred honor of performing the Tahara in accordance with our tradition.
It is not every day that we get an opportunity to be part of something so special, but Chabad of Northwest Arkansas is here for every Jew at any time and for any need. For the Fayes and Bernies in their time of need, for the adults who and are seeking a connection after a long break and for the children who are learning Alef-Bet at our Hebrew school; for the travelers that can use a hearty meal after a long journey and for the senior who needs a friendly visit – Chabad of Northwest Arkansas will always take the call and always answer the need.
As we mark this milestone, we are truly thankful to Hashem for giving us His blessings continually and enabling us to continue with this holy work;
We are truly thankful to the Lubavitcher Rebbe whose devotion and dedication to every single Jew and endless commitment to bring Torah-true Judaism to every corner of the globe is the inspiration that keeps us going every day;
We are truly thankful to our donors, who support our work and enable us to provide these vital services to every single Jew;
And we are truly thankful to each and every member of the Jewish community of Northwest Arkansas – whether you participate twice a week, twice a year, or just let us know that our presence in the area is meaningful to you – all of you are the brick and mortar of our community and are an integral part of Chabad of Northwest Arkansas' success story.
As we move forward we would be honored if you would take a moment and let us know what Chabad of Northwest Arkansas means to you. Your feedback is truly heartwarming and important to us.
Shabbat Shalom,
Rabbi Mendel Greisman
To support the work of Chabad of Northwest Arkansas, click here.
*Names were changed to protect the privacy of the family.