Wednesday afternoon, May 11. I had just concluded the final session of our Lunch and Learn series on Campus. A few people had lingered around and we were chatting nonchalantly, when my phone started vibrating. After five consecutive calls I could no longer ignore it and took it out as I received a new text message: Boruch Dayan Ho'emes.
(Boruch Dayan Ho'emes, (in English: Blessed be He who Judges truthfully) is the way Jews, for centuries, have been notifying each other of the death of a loved one. Just as we thank G-d when hearing good news, we also bless Him for bad news; and while we don't understand His ways, we recognize His kindness in every step, accepting everything with love.)

In shock, all I could muster was a "who?" The response: Bubby. Bubby Henya Schusterman, OBM, my mother's mother, had passed away. While her health was deteriorating for some years now, I had no indication that the end was near.

I quickly realized that following Jewish tradition, the funeral will surely be very soon – if not that evening, then first thing Thursday morning and making it in time would be nearly impossible. I had to figure something out fast.

I dropped everything, cancelled all my appointments and got to work. American Airlines wanted $2,000 for a last-minute roundtrip ticket, and I didn't have miles or coupons anywhere to get a bargain. By divine providence, one of the appointments I had to cancel was a Bar Mitzvah lesson for Jonah Hyman, whose Bar Mitzvah we will celebrate this coming Shabbos at Chabad (I hope to see you there!). Upon hearing the unfortunate news Jonah's father offered his assistance and I'm not sure how, but by the time I reached exit 78 he had me booked on the 5:30 flight (thanks a lot, Jeremy.) The funeral, I was informed, was set for 9:15 the following morning.

With very little time for anything I packed some basics and headed to the airport. It wasn't until I was comfortably seated at 9B that I had a chance to gather my thoughts.

Bubby was born in November 1920, in the Russian town of Shumyachi. She married my grandfather, Zaidy Mordechai Schusterman, in the summer of 1940. One year later, as the Nazis advanced into Russia, they fled to Uzbekistan with a month old infant, my eldest aunt, Layah. Six months later, in March of 1942, Bubby's parents and her two brothers, along with all of the Jews of their region, were rounded up and wiped out within two days. The women first and the following day the Nazis murdered the men.

Bubby rarely spoke about her early life, although from a few sentences throughout the years I was able to see that she never forgot. I remember one summer day in the late 90s, when I told her that my sister Faigy was going to run a Jewish day camp in Cologne, Germany. She looked at me and in a painful voice that I didn't recognize said, in Yiddish, "I don't understand how she can go there. I cannot even imagine seeing them again." I was able to see that her pain was real and it never left her. That was one of the only times I can remember her bringing up her loss. She was always cheerful and full of energy and life. She dealt with the past by building the future; and what a future she built.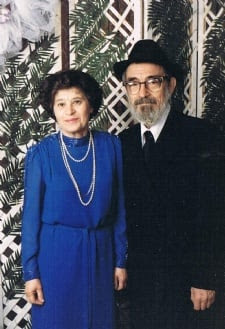 Bubby and Zaidy Schusterman
My siblings and I grew up in Israel. For the first ten years of my life she was a long distance Bubby. As I grew older I traveled more frequently to the States and eventually went to Yeshivah in Brooklyn at age 15. I now had the chance to see my grandparents very often, spend many Shabbos dinners at their home and share happy family occasions with them. Having only seen her in Bubby-mode I remember the first time I bumped into her shopping on Kingston Avenue; with me trying to make sense of the scene, for I have never seen her everyday, busy human side. As time passed, our relationship changed from that of young grandchild coming to Bubby or Zaidy for a kiss, to a mature relationship which enabled me to learn many lessons in life from them. Although, looking back, I probably still didn't spend enough time with my grandparents.

I landed in LGA at about midnight. My brother Zushi picked me up and was telling me about Bubby's last days. She had become very weak and hadn't talked for almost two weeks. She died peacefully, sitting on the wheelchair at her living room window, her favorite spot. While confined to her home in recent years she enjoyed sitting at the window and seeing the world in all its busy glory. (Arkansas can make you forget how busy the world really is but one day in New York sets the record straight.)

Bubby's house had scores of pictures of her children, grandchildren, great-grandchildren, and great-great-grandchildren (she had 11 of those). Her refrigerator and kitchen walls were covered with family photos, especially of the most recent additions. With a family as large as Bubby's there was always a new face and as a matter of fact, during the week before her passing, there were two Bris celebrations in the family.

While I was studying in Yeshivah in Brooklyn, I lived at the home of my aunt Zissel, my mother's younger sister. Together with her husband and their thirteen children, they graciously opened their home to me and even more graciously put up with me for nine years. For six of those years, after my grandfather passed away, Bubby moved in to the first floor apartment of their home, giving me the opportunity to see her almost daily.

Bubby always had "something" ready for anyone that came in. Back in her home, Bubby had a walk-in pantry off of the kitchen which was a real novelty for a young Israeli boy that never saw a home larger than 1,000 SF. It had a real 'hide-out' type of feeling and I enjoyed sneaking in again and again. With time I learned the location of every 'goodie' in that closet and visited more often. Bubby always enjoyed it. Even in her later years, when she was unable to get out of her chair, she would direct her young grandchildren to the cookie jar or the candy basket that was always in the pantry. "Mach a Brocho" – recite a blessing, she would say and watched with a smile as they enjoyed the treat.

Bubby wasn't "early to bed" and was usually awake when I returned home late from a full day at the Yeshivah. When I wasn't exhausted, I would go into her home and we would spend a few minutes discussing our days, which usually meant me doing all of the talking. Bubby never spoke about herself and her accomplishments and I am pretty certain she wouldn't approve of this article either.

Although it was well after 1:00 AM by the time I got into Brooklyn, my brother took me to Bubby's house. Come, he said, let's see who is there. My aunt Zissel and four of her children were there, and they were surprised I made it so quick. Arkansas is not that far, I protested (and I knew that in the New Yorker's mind Arkansas is as far as Katmandu). We spent about half an hour talking about Bubby and her last days in this world. I looked at Bubby's empty seat at the kitchen table and my heart ached, realizing she will never sit there again. She was sitting at that chair almost every time I visited since Dobi and I were married. It was there that she saw each of my children as they were born and were growing up.

My own children never met the vibrant and energetic Bubby I had known in my childhood, but we made sure to see her every time we were in NY. In addition to being their great-grandmother, there was something else I wanted them to see.

You see, she wasn't only a matriarch of a large family, or a grandmother par excellence. For me, she was also a link to a world we do not know and perhaps no longer exists. My grandfather wrote a detailed memoir of their life in Russia and his stories made up for her reticence.

When they were living in Russia, they risked their life to be Jewish. Going to Shul could mean five years in Siberia and teaching Torah can be a death sentence. My grandfather paints in vivid colors his fear of being caught during High Holiday services in Samarkand, in the autumn of 1942; the secret Minyan that was arranged in his apartment and the risks they took to sit in a Sukkah. Yet, they didn't allow any of that to get in the way of their commitment to Judaism.

For the Jews in Russia during those horrifying years, Judaism wasn't a given and certainly wasn't a freedom. It was a choice; a hard choice; one that cost lives; one that required real commitment. For them, Judaism wasn't a way of life. Judaism was life, inseparable.

Bubby loathed the endless pursuit of materialism that our generation is infamously known for. She expressed to me, on many occasions, her feeling of contempt towards the ostentatious behavior of our times and the never ending involvement in the latest fashion and trend. She clearly knew the real values in life.

For me, Bubby was the last link I had to that world; the world that had true self-sacrifice for Judaism; the world in which the term 'Jewish identity' actually carried some weight. While I make a living being a rabbi, Bubby's father was butchered for being a ritual slaughterer in his town; while we publicly rejoice in weddings or Simchas, Bubby feared for the safety of those that came to celebrate at hers; and while we freely study Torah in public, her brother was arrested for attending an underground Yeshia in Kursk.

It was that link that I wanted my children to see and it is the loss of this link that I mourn most. It is a chapter I hope never to close.

Nothing made Bubby more proud than her grandchildren's accomplishments. She loved hearing about our work in Arkansas and every story brought a huge smile to her face. She had dozens of grandchildren involved in rabbinical and outreach work around the globe and she was on everyone's mailing list. She loved seeing the tremendous amount of goodness and kindness her offspring were creating and their collective contribution to Jewish life.

I can't remember seening her cry but I heard her crying, once. My mother, her daughter, passed away at 39, just twelve hours after giving birth to her tenth child. Bubby flew in to help us deal with the nightmare that was now a reality. About a week later, Yosef, the ninth, who had just turned two, woke up in the middle of the night and was looking for his mommy. Mommy, Mommy, he cried, wondering why she wasn't coming. He cried for a very long time and no one can sooth him. Unbeknownst to her, I overheard her, in tears, recounting the story on the phone the next morning. She watched with pride as my siblings and I were growing up, thank G-d, into fine young men and women but whenever she introduced me as 'Nechoma's son' her voice was full of true pride, and real pain. [Yosef is now a young scholar teaching Torah in Elad, Israel.]

By the time I got to bed I had six hours left to the funeral. After an abbreviated version of a good night's sleep and a stop at the Lubavitch World Headquarters for morning prayers, I headed to the Shomrei Hadas Chapels for the funeral.

It's very awkward to meet a cousin you hadn't seen in a few years in the solemn atmosphere of a funeral chapel. How do you greet them? Cheerfully? Crestfallenly? A combination? I had this awkward moment about a dozen times that morning, meeting cousins from different parts of the country and from around the world. My cousin Shaina even managed to make it all the way from Santiago, Chile.

With a family as large as Bubby's we even have our own representative in the Chevrah Kaddishah, the Ritual Burial Society. As my cousin Rabbi Levi Garelik was leading the service, I was looking around the room filled with about 100 family members and a group of her friends and continued thinking of her life.

Passing away at ninety-years-old, she lived a long, fulfilling life and was very proud of her family and their contribution to Jewish life. She and my grandfather viewed their large family as the best revenge to our nation's enemies who wanted to see us gone. We were mourning her passing and simultaneously celebrating the life of a woman who rose from the ashes and with renewed vigor every day, built an everlasting edifice that no one can be ashamed of.

I recalled with shame the following incident. I was 8 years old when my mother gave birth to her seventh. Bubby flew in from NY to be with us for a few weeks and aid her convalescence. Bubby ran the show and took excellent care of us, however, she also knew to how to put us in our place when necessary. After too many acts of mischief on my part – and the resulting consequences, I "innocently" asked her when she was planning to return to Brooklyn. The "Mussar-Shmues" (rebuke session) I got from my mother still reverberates in my ears to this very day. She never allowed us to take advantage of her gentleness and knew exactly when to change gears. I may not have liked it then, but as a father I cherish that lesson tremendously.

Bubby passed away on the 22nd day of the Omer, the day that represents the Kabalistic attribute of "chesed shebenetzach"; Kindness within Zealousness. For Bubby contained a unique combination of true kindness and gentleness from one side and a fierce zealousness from the other. True kindness to every person that crossed her path and zealousness to protect every detail of her Jewish life.

And as we were driving down the Belt Parkway, Zushi and I were trying to figure out how many people were legally permitted to call her "Bubby," but without pen and paper we gave up quickly. Later that evening sitting at the Shiva house, we figured that, Kain Ayin Horo, she left over three hundred descendants that will sorely miss her.

We arrived at the Old Montefiore Cemetery in Cambria Heights. Just blocks away from where the noisy streets of New York City transform into the serene neighborhoods of Long Island and a few hundred feet from the resting place of the Lubavitcher Rebbe, Rabbi M.M. Schneerson, of righteous memory.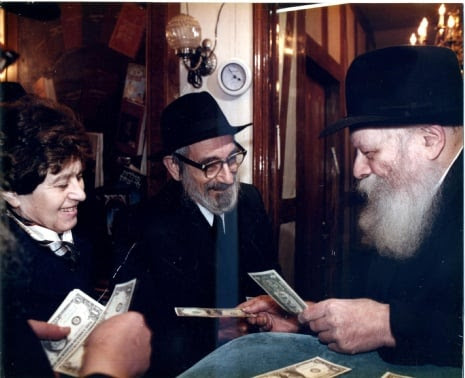 Receiving a blessing from the Lubavitcher Rebbe
The weather was perfect. The air was silent. The tears had dried. We all watched silently as Bubby was being lowered into her final resting place. We stood there, my cousins and I, without uttering a word, witnessing the last moments of such a full life.

I was listening to Uncle Gershon, Bubby's only son, as he was reciting the gravesite Kaddish. Praying for "the world which He will create anew, where He will revive the dead, construct His temple, deliver life, and rebuild the city of Jerusalem . . and may He bring forth His redemption and hasten the coming of His Moshiach," I was thinking of Bubby's life in Russia, her life in Brooklyn, my own journey in life and the bright future that awaits all of us with the coming of Moshiach, may it happen speedily in our days.

As the crowd dispersed, I walked over to the fresh grave. I closed my eyes and I was looking for the right words, the right thoughts, anything appropriate for that moment. All I can come up with was "Goodbye, Bubby." I contemplated adding 'say hi to my mom,' but I didn't. 'Goodbye, Bubby' I whispered and slowly walked back to the car.

May the memory of Henya Chasha bas Zusman be a true blessing for all of us!